Posts for: February, 2019
By Dr. Brian Gniadek
February 15, 2019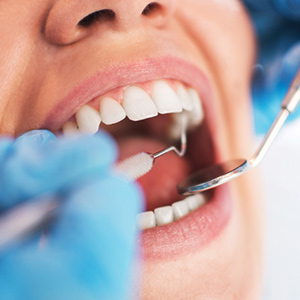 Periodontal (gum) disease is as common as it is destructive. Almost half of all adults 30 and older have some form—and those numbers increase to nearly three-quarters by age 65.
Fortunately, we have effective ways to treat this bacterial infection, especially if we catch it early. By thoroughly removing all plaque, the disease-causing, bacterial biofilm that accumulates on tooth surfaces, we can stop the infection and help the gums return to normal.
Unfortunately, though, you're at a greater risk for a repeat infection if you've already had gum disease. To lower your chances of future occurrences, we'll need to take your regular dental exams and cleanings to another level.
Although everyone benefits from routine dental care, if you've had gum disease you may see these and other changes in your normal dental visits.
More frequent visits. For most people, the frequency norm between dental cleanings and exams is about six months. But we may recommend more visits for you as a former gum disease patient: depending on the advancement of your disease, we might see you every three months once you've completed your initial treatment, and if your treatment required a periodontist, we may alternate maintenance appointments every three months.
Other treatments and medications. To control any increases in disease-causing bacteria, dentists may prescribe on-going medications or anti-bacterial applications. If you're on medication, we'll use your regular dental visits to monitor how well they're doing and modify your prescriptions as needed.
Long-term planning. Both dentist and patient must keep an eye out for the ongoing threat of another gum infection. It's helpful then to develop a plan for maintaining periodontal health and then revisiting and updating that plan as necessary. It may also be beneficial to perform certain procedures on the teeth and gums to make it easier to keep them clean in the future.
While everyone should take their oral health seriously, there's even greater reason to increase your vigilance if you've already had gum disease. With a little extra care, you can greatly reduce your chances of another bout with this destructive and aggressive disease.
If you would like more information on preventing recurring gum disease, please contact us or schedule an appointment for a consultation. You can also learn more about this topic by reading the Dear Doctor magazine article "Periodontal Cleanings."
By Dr. Brian Gniadek
February 05, 2019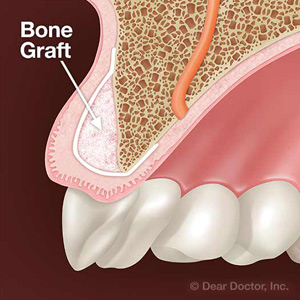 Dental implant technology has advanced at such an astounding rate in recent years that you can now walk into a dentist's office with a problem tooth and out the same day with a new one. Unfortunately, not all dental situations allow for this possibility.
For example, you might be considering an implant many years after losing a tooth. But there's a potential problem: there might not be enough supporting bone. While an implant might still be possible, inadequate bone complicates the matter.
Because implants are essentially tooth root replacements, they require a certain amount of bone for stability and the best attractive outcome. As a general rule, implants need to be surrounded by  at least 1.5-2.0 millimeters of healthy bone to support an implant. But you might not have enough if your tooth has been missing for awhile, regardless if you have or haven't worn dentures or other restorations.
That's because bone has a life cycle in which older cells die and newer ones form to take their place. As we chew or bite, the force generated travels up through the teeth to the bone to stimulate this new growth. Without a tooth the bone doesn't receive this stimulus, which can slow the growth rate. Over time the affected bone can lose its volume and density.
If we find you've experienced loss to the point your bone won't support an implant, that doesn't automatically mean this popular restoration is out of the picture. But it will require us first performing a procedure known as augmentation or bone grafting to help rejuvenate some of the lost bone.
With grafting, we place processed bone grafting material in the jaw through a minor surgical procedure to form a scaffold for new bone to grow upon. After several months this can result in several millimeters of new growth maintaining the width of the underlying bone, which in turn may be able to support an implant.
Bone grafting is quite common, often performed at the same time as tooth extraction if there's going to be a time lag before installing an implant. Even if performed later, though, it can successfully rejuvenate lost bone and make it possible for you to take advantage of durable, life-like implants.
If you would like more information on dental implants, please contact us or schedule an appointment for a consultation. You can also learn more about this topic by reading the Dear Doctor magazine article "Dental Implants after Previous Tooth Loss."