Posts for tag: braces
By Dr. Brian Gniadek
January 26, 2019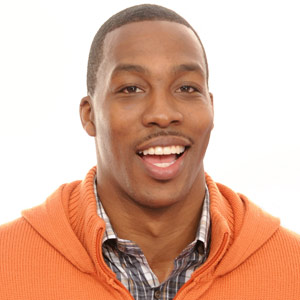 Have you started orthodontic treatment recently? Are you having a little trouble getting used to your braces? If so, you are not alone: Everybody goes through an adjustment period during which they momentarily wonder if they'll really ever get used to this. Don't worry — you will! And we've never heard anyone say, on the day their braces come off and their new smile is revealed, that they aren't glad they went the distance. Just ask Houston Rockets all-star center Dwight Howard, who discussed his own orthodontic treatment in a recent interview.
"I'm sure I was no different than anyone else who has ever had braces," he told Mediaplanet. "At first I hated them so much… That changed once I got used to them and I actually grew to love them." What's Howard's advice? "Do exactly what your orthodontist says and know that the outcome is well worth it in the end." We couldn't agree more! Here are some tips for wearing braces comfortably:
Hard & Chewy Foods: If you love fresh fruits and vegetables, that's great; there's no reason to give them up, just the really hard ones. You don't want to bite into an apple or carrot or any other hard foods like bagels and pizza that have any "size" to them. Small pieces may be ok as long as they can't bend your wires. Chewy, sticky candy should really be avoided completely. Same with soda, sports drinks and so-called energy drinks because they contain acids that promote tooth decay and can cause a lot of damage around the braces.
Effective Oral Hygiene: Keeping your teeth clean is more important than ever, but also more challenging than ever. It's easy for food to get stuck under wires and around brackets, but failing to remove it can cause tooth decay, gum irritation and soreness. Therefore, the cleaner your teeth and your braces are, the healthier you will be. Use interdental cleaning brushes and/or a floss-threader to get behind your wires. A mouthrinse can also help strengthen teeth and keep bacteria in check. If you have any questions about how to clean between your teeth, please ask for a demonstration at your next visit.
Pain Relief: Some soreness at the beginning of orthodontic treatment is normal. To relieve it, you can use an over-the-counter pain reliever and/or a warm washcloth or heating pad placed on the outside of the jaw. If brackets or wires are rubbing against the inside of your cheeks or lips, try applying wax to these areas of your braces. If this does not offer enough relief, we may be able to trim the end of a poking wire. Call us if you need help with this.
Our goal is to make your orthodontic treatment as comfortable as possible on the way to achieving your all-star smile. If you have questions about adjusting to braces, contact us or schedule an appointment for a consultation. You can learn more by reading the Dear Doctor magazine article "Caring for Teeth During Orthodontic Treatment."
By Dr. Brian Gniadek
July 30, 2018
On your way to a more attractive smile, you'll have to deal with some inconveniences while wearing braces like avoiding certain foods or habits or dealing with possible embarrassment about your new "metal smile." But there's one consequence of wearing braces that could dramatically affect your dental health: the difficulty they pose for keeping your teeth clean of dental plaque.
Dental plaque is a thin film of bacteria and food particles that if allowed to build up on tooth surfaces could trigger tooth decay or periodontal (gum) disease. Brushing and flossing thoroughly every day helps prevent this buildup.
Unfortunately, metal brackets and wires can get in the way and cause you to miss areas while performing these hygiene tasks. This could cause plaque buildup in those isolated areas that could trigger an infection. And if you (or someone you love) are also a teenager, the natural adolescent surge in hormones can increase your infection risk.
If while wearing braces you notice your gums are reddened, swollen or bleeding when you brush, these are all signs of infection and the body's inflammatory response to it. The longer the infection continues, the weaker the tissues become, causing them to gradually detach from the teeth. Along with bone deterioration (another effect of the disease), this can ultimately lead to tooth loss.
To prevent this from happening, you'll need to be as thorough as possible with daily brushing and flossing. To help make it easier, you can use special tools like an interproximal brush that can maneuver around the braces better than a regular brush. For flossing you can use a floss threader to more readily guide floss between teeth or a water flosser that uses a pressurized stream of water rather than floss thread to remove plaque.
This extra cleaning effort while wearing braces can greatly reduce your disease risk. But you'll still need to keep an eye out for any symptoms like swollen or bleeding gums, and see your dentist as soon as possible. If the symptoms become severe you may need your braces removed until the disease can be brought under control. The health and future vitality of your teeth and gums is what's of primary importance.
If you would like more information on dental care while wearing braces, please contact us or schedule an appointment for a consultation. You can also learn more about this topic by reading the Dear Doctor magazine article "Gum Swelling During Orthodontics."
By Dr. Brian Gniadek
March 27, 2018
It's a common sight to see someone wearing braces—and not just teens or pre-teens. In the last few decades, people in their adult years (even late in life) are transforming their smiles through orthodontics.
If you're an adult considering treatment to straighten your teeth, this particular dental specialty might be an unfamiliar world to you. Here are 3 things you may not know about orthodontics.
Orthodontic treatment cooperates with nature. There would be no orthodontics if teeth couldn't move naturally. Teeth are actually held in place by an elastic tissue called the periodontal ligament that lies between the teeth and bone. Small fibers from the ligament tightly attach to the teeth on one side and to the bone on the other. Although it feels like the teeth are rigidly in place, the ligament allows for micro-movements in response to changes in the mouth. One such change is the force applied by orthodontic appliances like braces, which causes the bone to remodel in the direction of the desired position.
Treatment achieves more than an attractive smile. While turning your misaligned teeth into a beautiful, confident smile is an obvious benefit, it isn't the only one. Teeth in proper positions function better during chewing and eating, which can impact digestion and other aspects of health. Misaligned teeth are also more difficult to keep clean of bacterial plaque, so straightening them could help reduce your risk of tooth decay or periodontal (gum) disease.
Possible complications can be overcome. Some problems can develop while wearing braces. Too much applied force could lead to the roots dissolving (root resorption), which could make a tooth shorter and endanger its viability. Braces can also contribute to a loss of calcium in small areas of tooth enamel, which can make the teeth more vulnerable to oral acid attack. However, both these scenarios can be anticipated: the orthodontist will watch for and monitor signs of root resorption and adjust the tension on the braces accordingly; and diligent oral hygiene plus regular dental cleanings will help prevent damage to the tooth enamel.
If you're dreaming of a straighter and healthier smile, see us for a full examination. We'll then be able to discuss with you your options for transforming your smile and your life.
If you would like more information on orthodontic treatment, please contact us or schedule an appointment for a consultation. You can also learn more about this topic by reading the Dear Doctor article "Moving Teeth with Orthodontics."