Posts for tag: tooth loss
By Dr. Brian Gniadek
April 11, 2018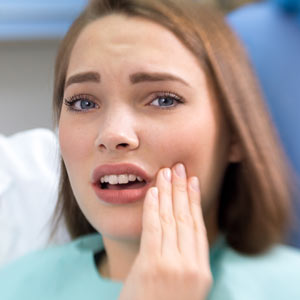 In an instant, an accident could leave you or a loved one with a missing tooth. Thankfully, we can restore it with a dental implant that looks and functions like a real tooth—and the sooner the better.
But if the patient is a teenager or younger, sooner may have to be later. Because their jaws are still developing, an implant placed now could eventually look as if it's sinking into the gums as the jaw continues to grow and the implant doesn't move. It's best to wait until full jaw maturity around early adulthood and in the meantime use a temporary replacement.
But that wait could pose a problem with bone health. As living tissue, bone cells have a life cycle where they form, function and then dissolve (resorption) with new cells taking their place. This cycle continues at a healthy rate thanks to stimulation from forces generated by the teeth during chewing that travel through the roots to the bone.
When a tooth goes missing, however, so does this stimulation. Without it the bone's growth cycle can slow to an unhealthy rate, ultimately reducing bone volume.  Because implants require a certain amount of bone for proper placement and support, this could make it difficult if not impossible to install one.
We can help prevent this by placing a bone graft immediately after the removal of a tooth within the tooth's "socket." The graft serves as a scaffold for new bone cells to form and grow upon. The graft will eventually resorb leaving the newly formed bone in its place.
We can also fine-tune and slow the graft's resorption rate. This may be preferable for a younger patient with years to go before their permanent restoration. In the meantime, you can still proceed with other dental treatments including orthodontics.
By carefully monitoring a young patient's bone health and other aspects of their dental care, we can keep on course for an eventual permanent restoration. With the advances in implantology, the final smile result will be worth the wait.
If you would like more information on dental care for trauma injuries, please contact us or schedule an appointment for a consultation. You can also learn more about this topic by reading the Dear Doctor magazine article "Dental Implants for Teenagers: Factors Influencing Treatment Planning in Adolescents."
By Dr. Brian Gniadek & Associates
July 11, 2016
Before tooth loss defeats you find out how dentures might be able to help.
If you are missing several or even all of your permanent teeth, do not lose hope. Your Lindenhurst, IL dentist Dr. Brian Gniadek has the
solution you've been looking for that will be easy to achieve and easy on your wallet.
What are dentures?
This oral prosthetic contains several artificial teeth that are attached to a plastic, gum-like base. Dentures are then attached to the mouth using metal clasps. There are two main types of dentures: partial and complete.
By the name alone, you may already be able to tell when these dentures are used. Partial dentures are designed for those who have several missing teeth, but still have some healthy teeth left. Complete dentures are used for those with total tooth loss.
What are the benefits of choosing dentures?
If you are dealing with tooth loss, you may find yourself staying away from social activities or nixing many of your favorite foods because it's just too challenging to eat. But why restrict yourself so heavily when you can enjoy all the benefits of having teeth again when you get dentures in Lindenhurst, IL? Here are only some of the benefits you'll enjoy:
You'll have a full smile again. No need to worry about smiling in public or fear talking to those around you. You now have a full smile to show off. Not to mention, having a full set of teeth will also make it easier to speak. After an adjustment period with your dentures, you'll realize that speech is restored.
Your budget won't take a hit. Many people want to treat their tooth loss, but worry about the expense. Fortunately, dentures make it easier for many patients on a strict budget to get the smile they need without it heavily impacting their finances.
Dentures are just that easy to clean and care for. In fact, when it comes to keeping your dentures clean just treat them as you would your natural teeth and brush them twice a day and floss daily. We can also provide you with more thorough care instructions so that your dentures last for years.
Don't you owe it to yourself to get your smile back? Then turn to our Lindenhurst general dentist Dr. Brian Gniadek & Associates to find out if dentures are right for you.